03.02.07 - 10:24 am

| sfbg
|
So there's this guy named Tommy Lee. Maybe you've heard of him? Played drums in a little-known rock band? Married some blonde in a red bathing suit? Starred in a salacious home video? Well, apparently this obscure musician is still making his art in the small, private, cult-following-type venues he's become accustomed to (like Oakland's Oracle Arena, on two different reality shows, and in a book he's co-writing, among about a dozen other gigs).
And because I'm on the inside of the indie scene, with my ear to the ground and finger on the pulse and my nose buried deep in music mags you've never heard of, I caught wind of Mr. Lee's recent appearance in the Bay Area. Not only caught wind, mind you, but rode that wind all the way to the stage and then behind it, where I watched this lean, muscled, tattooed, talented, teenager-in-a-man's-body (If only he could be saved from his obscurity so the rest of the world could appreciate his crush-worthiness…) wail away on the drums while his friends from other little known bands (Guns N Roses, anyone? Black Crowes? Nah, I haven't heard of 'em either...) and a guy they found on a TV show played along in their tiny garage band named Rockstar Supernova .
Now's probably the part where I should review the show, but thanks to appropriately rockstar amounts of beer and Jagermeister that took me a week to recover from (and therefore that long to write about it), you've probably already read about the show somewhere else. And considering that I met (and liked) the fantastic Mr. Lee before he went on stage, I'm not exactly an unbiased observer anyway.
Instead? Look at some pictures from the Rockstar Supernova show on Thursday, February 22 (with Juke Cartel, fronted by Rockstar Supernova reality show runner-up Toby Rand, and Panic Channel, featuring Dave Navarro):
Lukas Rossi, the former Hooter's cook from Canada who won the reality show contest and now fronts Rockstar Supernova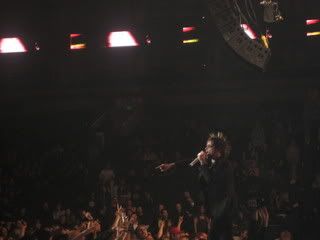 Tommy Lee on keyboards during a cover of The Verve's Bittersweet Symphony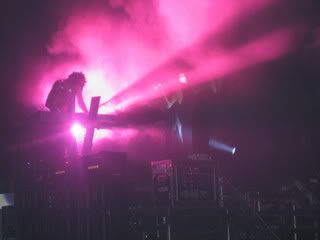 The encore, a cover of Prince's Purple Rain, climaxes with - what else? - a rain storm of purple confetti

(Molly Freedenberg)