Meli Burgueno is the woman pedaling hard behind the killer San Francisco blog, Bikes And The City [1] and after catching a glimpse of her always adorable road-friendly attire, it was time to get behind the chains and cranks to get a few style fashion-dos from the bicycle lover herself. Poking in and out of her favorite stores on Polk Street, Meli shows ladies the rules for hot cruisin'...of which she says there are none.
She rolls up on her companion of choice, "Frenchie" and parks her next to the coffee shop. Meli is sporting her usual cute; a flirty spring dress, black cardigan, gray tights and low black heels; the epitome of fearless femininity on wheels. As a biker myself, Meli and I agreed that looking lady-like in the bike lane often attracts glances from the other riders and drivers alike-- there seems to be an assumption that biking requires spandex, jeans or some other bike 'intended' fabric. This is not true.
"The key to bike fashion is finding stylishly comfortable pieces, which is basically anything," says Meli with a shrug. "If you can walk comfortably in that shirt, dress or pants, you can bike comfortably in it, too."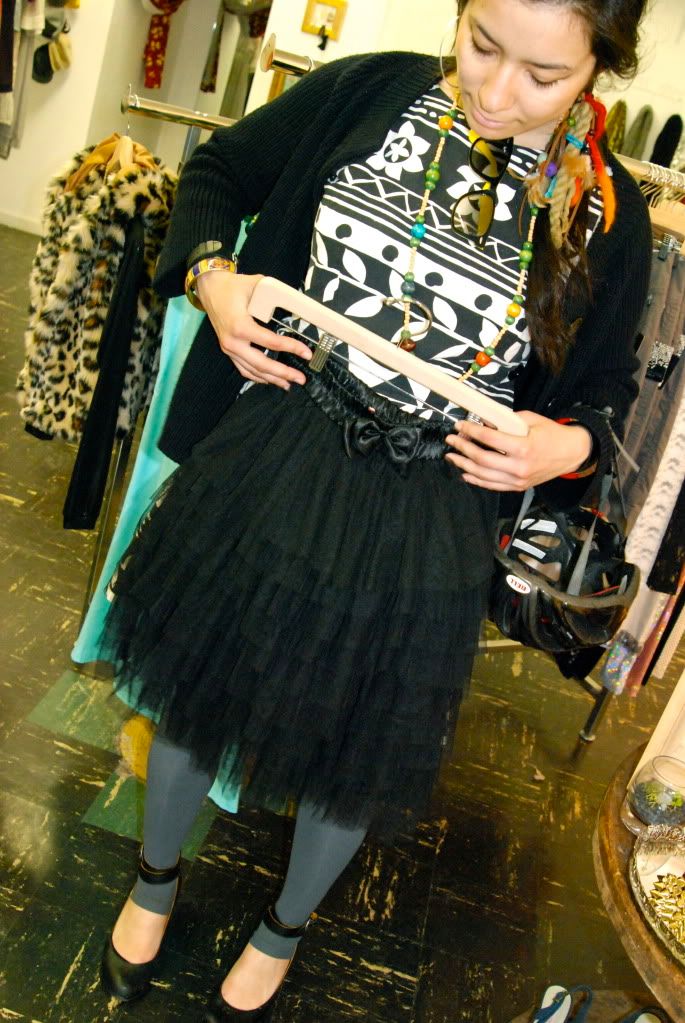 We step into Tedda Hughes [2] and Meli's grin goes ear to ear. "I'm a terrible shopper, but I love this store," she says while flipping through the racks. Meli has been biking since 2003, making cycling her main mode of transportation and a huge part of her life. She encourages other women to hop on wheels and quit fussing over the details.
"You have to get over your questions and just try it. Sometimes my shoes get dirty, but they can always be washed. And yes, sometimes I get sweaty-- but isn't that what bodies are for?"
She picks out a frilly black skirt, made by store owner Tedda Hughes herself. Meli never wears jeans. "I have a pair, yes, but I haven't worn them for about four years. I can't believe people bike in jeans...but then again, I don't think they're comfortable to walk in."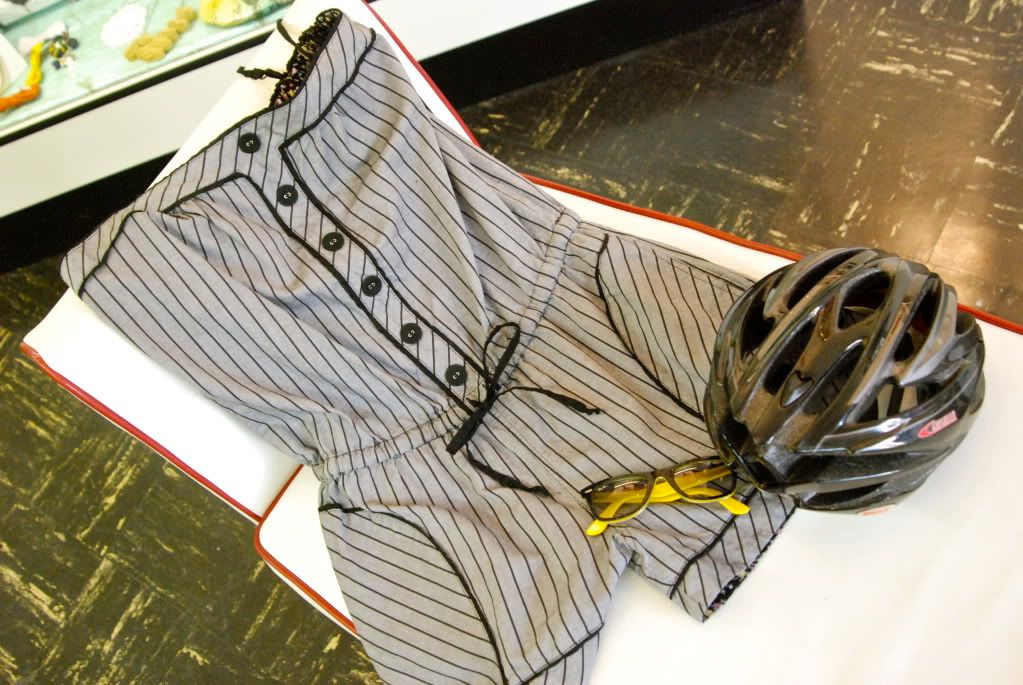 We spot this lovely Gentle Fawn jumper, which is perfect for riding around town on a summer day-- comfy, sweet and ideal for modest girls won't have to worry about flashing their panties.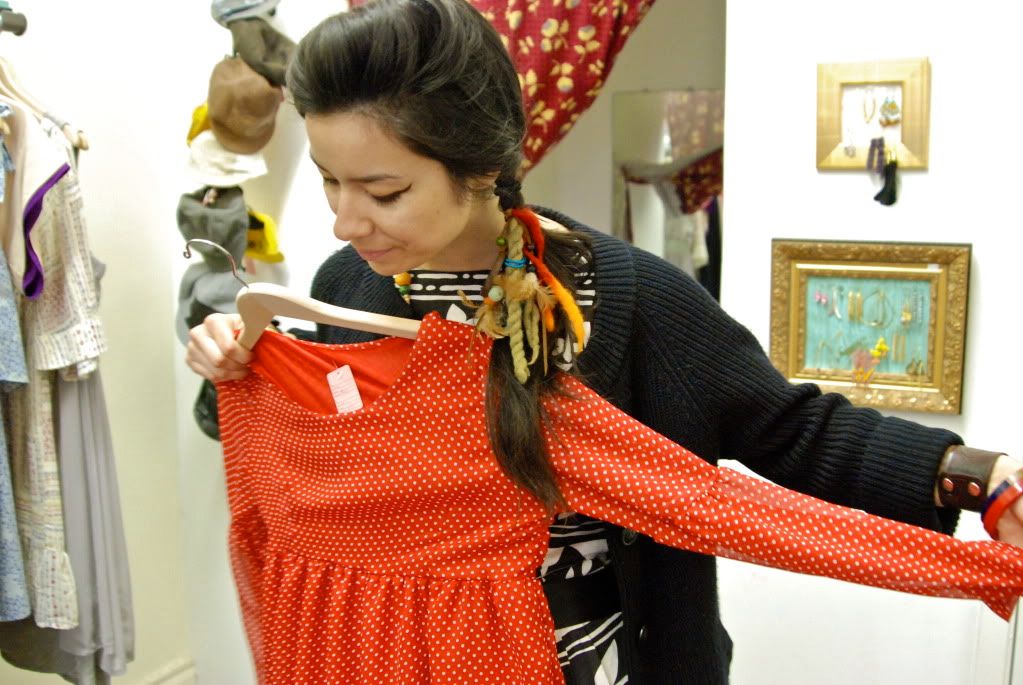 Meli loves bright colors, which not only look stellar, but they're great for visibility reasons; get attention from sexy bike lane buddies and angry taxi drivers alike. This red, polka dot baby doll adaptation is another Tedda Hughes creation and Meli was drawn to the light, breathable fabric.
"I also really like wool. It's a great fabric for absorbing sweat and it dries fast."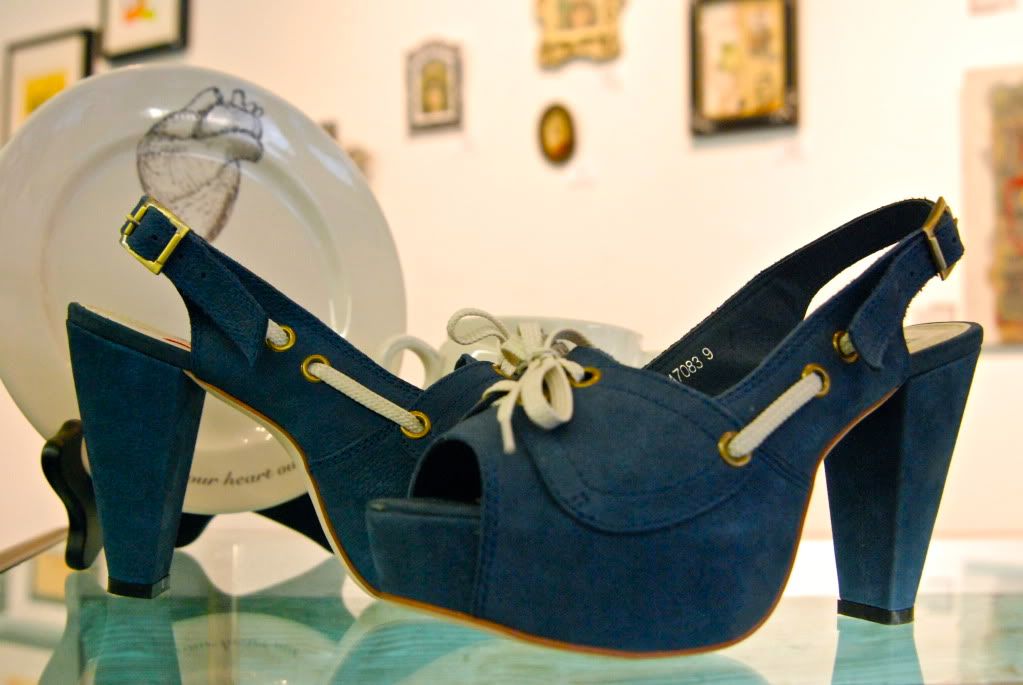 These marine blue, suede pumps by Charlotte Ronson may look a bit freaky compared to the average bike sneaks, but Meli assures that heels are totally cool for cycling, as long as you can stand on them at the stoplight. The heel hooks around the pedal and acts like a clip, making them surprisingly ok for riding. The heels on Meli's toes have rubber soles, which are also complimentary for her pedal style and help with grip.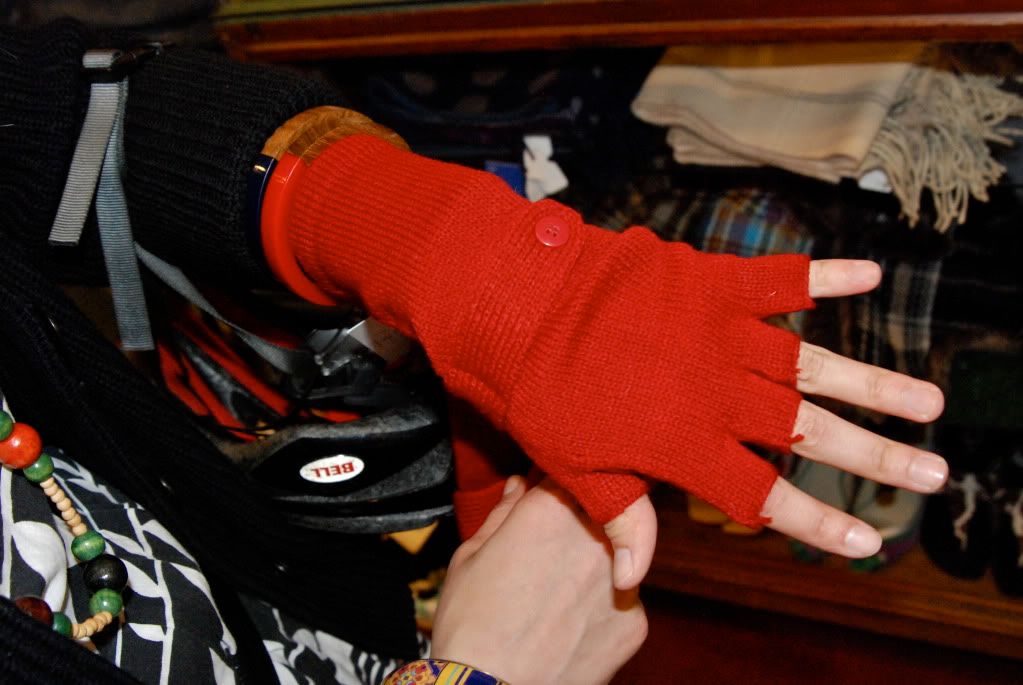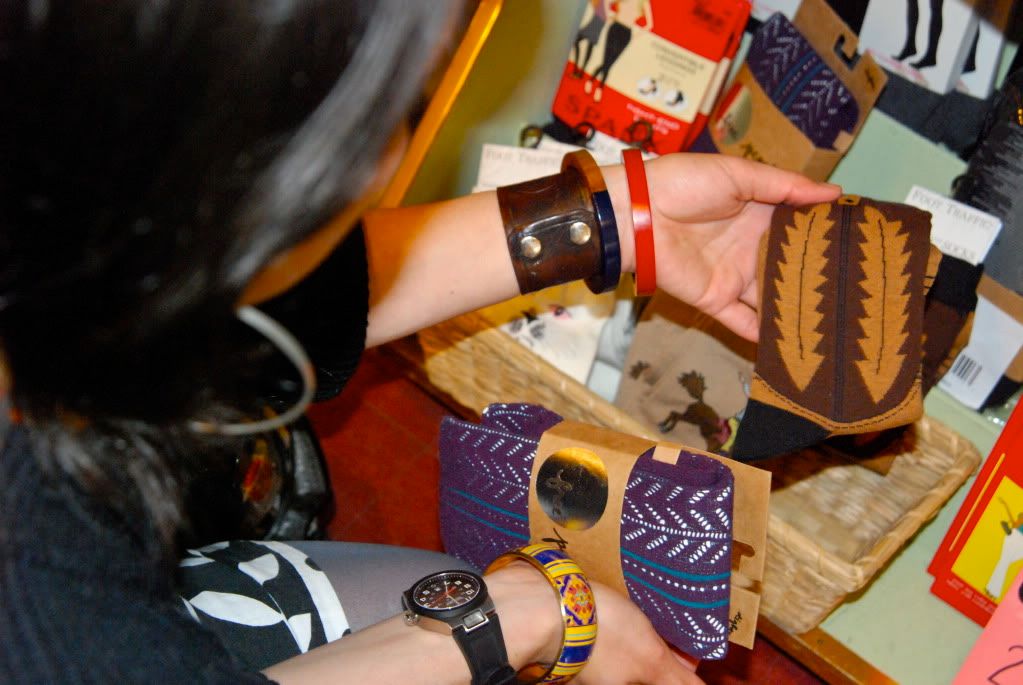 We walk down the block and browse through another of Meli's must-visit shops, Picnic [3], which is filled with fun wares, gifts and chunky accessories. Meli is all about layers and being prepared for the various micro-climates in the city. These Tullette finger-less mitts are an ideal friend for evening rides. And then she spots the basket of tights.
"I'm a tights whore," she says digging through the pack and making comments about each gem she finds.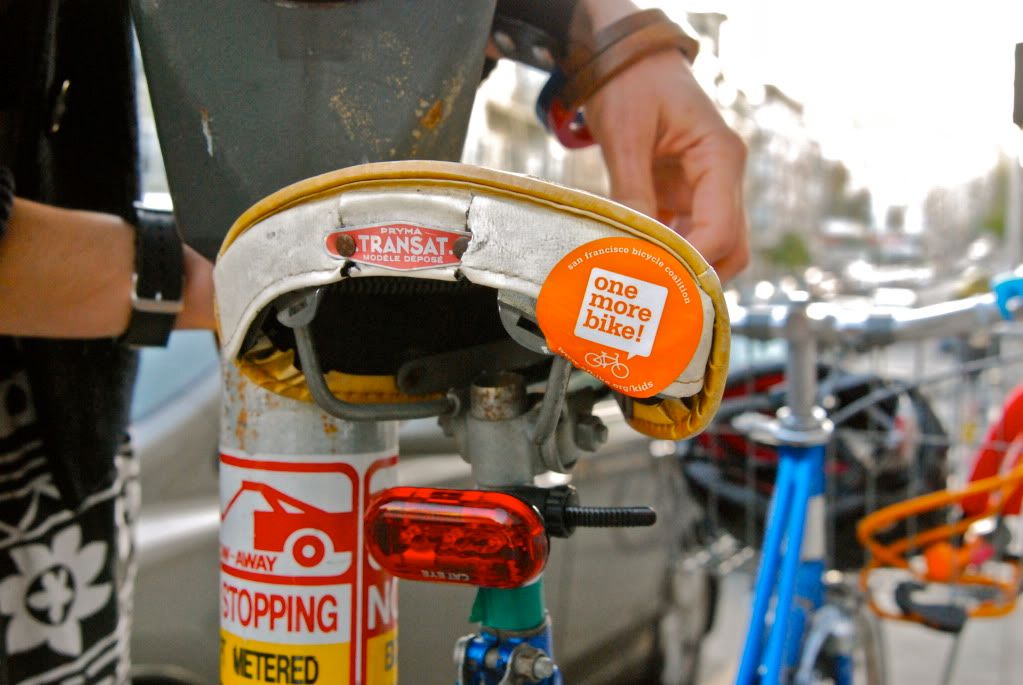 A fine day of shopping and it's time to hit the road. Unlocking her bike, Meli has one final bit of advice to tote before jetting off into the sunset.
"Basically I think you should just wear it-- no hesitations, no questions. If you like pants or whatever you feel good in, you should wear it and just ride."
Catch more of Meli @www.BikesAndTheCity.blogspot.com [4]