Your wrist is tired, the lube is running low and you've exhausted all your favorite porn; it's been a wonderfully fulfilling four weeks but the last weekend of Masturbation Month [1] has come (pun intended) and it's time to refresh your stash of erotic stimuli. Whether you're lusting for vintage pin-ups or need pure smut to finish off, The Magazine [2]'s overflowing shelves are sure to satisfy.
Taking over an entire house at 920 Larkin Street, The Magazine's ridiculously abundant collection of printed publications neatly encapsulates all spaces from the basement to a stunning third floor. This gigantic library of periodicals includes items both dirty and 'clean', some dating back as far as the 1860s and others fresh off the press. Trent Dunphy and Bob Mainardi opened up the literary collector's wet dream in 1973 with the primary intention to be a porn trading post; bring in old porn and swap it for something fresh. The shop has inhabited their current Tenderloin location for 17 years and the owners also recently celebrated their 40th anniversary as a couple.
A curious gander at The Magazine always ends well-- it's legitimate to say that this place can fancy a wide variety of tastes. From leg fetishes and bondage photo collections, to old school Playboys and '50s gay romance novels, this place is serious about stocking variety. In the beginning Mainardi and Dunphy would troll garage sales and fleas for naughty gems, but at this point they've got such a large back stash that they can solely rely on people that bring in items to trade or sell.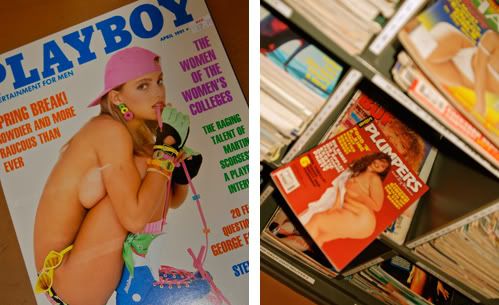 The rise in web-based porn has stolen a lot of the shop's business but thankfully their DVD section has constantly been a hit. Even though the printed word may be struggling in our society, Mainardi doesn't seem worried about the shop's future.
"As long as we're around, there will be people who want to buy old fashioned, printed smut," he says, sitting alongside towers of boxes, each filled with printed gems. As suspected, Mainardi gets a lot of super-fun, special requests. Just a couple he rambled off: hairy girls, girls with guns, fat girls, various ethnicities, and body modification. Only rarely can their vast collection not accommodate.
"When we first opened, there was a man looking for photographs of women who changed their hair color. He wanted to see a woman go from blonde to brunette, or something. I couldn't help him. I didn't know where to start. And that really set the tone from there on out. The requests just keep coming," he smiles.
Mainardi sees lots of trends come, go and come again. In the beginning he says it was pretty "vanilla", followed by an Asian fad, an explosion of fetish and gear seekers. Right now transgender materials are the hot item and there's a slow growing marketing for British skinheads. The rise of burlesque has brought back an interest in "cheesecake" magazines, artsy '50s porn, splashed with partially-nude ladies lounging provocatively.
"They're so dated," he says holding up, "Copper Cuties", a super PG tease that would look like a text book alongside a current Cosmo [3] cover. "There's a charm there that straight, hardcore porn of today just doesn't have."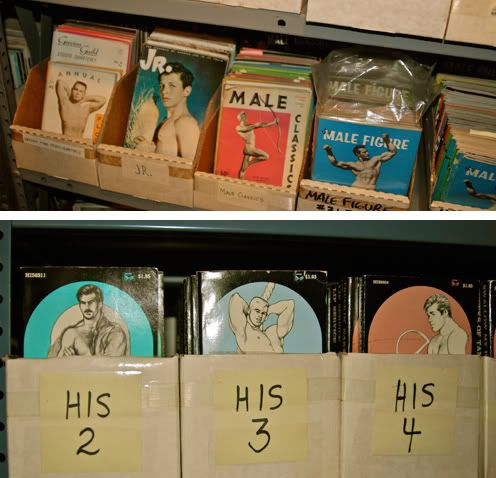 While younger generations may not be collectors, Mainardi has been quite pleased to see an influx in younger customers. A lot of art students come by to scope out the 35 cent specials, browse the bargain bin and look for inspiration. Technology has wiped out an entire generation's exposure to porn in paper form and watching the enthusiasm of young people "discovering" for the first time has been satisfying for Mainardi and Dunphy.
"We both just really love what we do. We've always collected hopelessly," he says in between the full tour, from the basement stacked with back issues to the top floors full of photographs and a large paperback collection. Rooms are dominated by gigantic bookcases. The stairs cluttered with additional boxes. Walls filled with posters, paintings, drawings and advertisements. There is no space left uncovered. "We're image junkies."